The Epstein.
I met up with the Oxford alternative country band before their gig at the Bull and Gate. Acoustic guitar playing, lead singer Olly Wills answered most of the questions. Guitarist Jon Berry and Keyboardist Sebastian Reynolds fielded the rest. Also in attendance was a man using the moniker "Warnie". He's currently playing drums for them. Stornoway's Oli Steadman, who recently joined the band for a short stint playing the double bass, was there too.
[vsw id="7mQVjNkuuCo" source="youtube" width="600″ height="400″ autoplay="no"]
We all chatted about aliens, as the band's pizzas and pasta dishes arrived at an Italian restaurant just across the road from the Kentish Town venue they were playing. So here is me attempting to prevent a band from eating their dinner.
What has been your greatest gig so far?
Olly: Glastonbury was cool. That's a pretty big gig for any band to play. It was a couple of years ago though.
What's your been your least favourite gig?
Olly: That's pretty easy. We played at an airport in Germany. We've got an interesting, an avant-garde label over there.  They try and search out new areas. That was one of them. It didn't work out.
What was the worst thing about it?
Jon: I think the worst thing about it was that there were no flights going into or out of the airport for the 3 hours around the 30 minute slot we had. There was no one there.
Olly: It sounded quite good though, reverberating around such a large structure.
Who writes your songs?
Olly: Myself and Jon come up with a lot of the initial ideas, and then present it to the other members. Seb over here on the keys has just thrown one of his songs into the pot, and that's working out really nicely. So we're quite open to ideas.
Where do you write the songs?
Olly: We did a lot of writing in this little village outside of Oxford. It's where I live. We can make quite a lot of noise in there.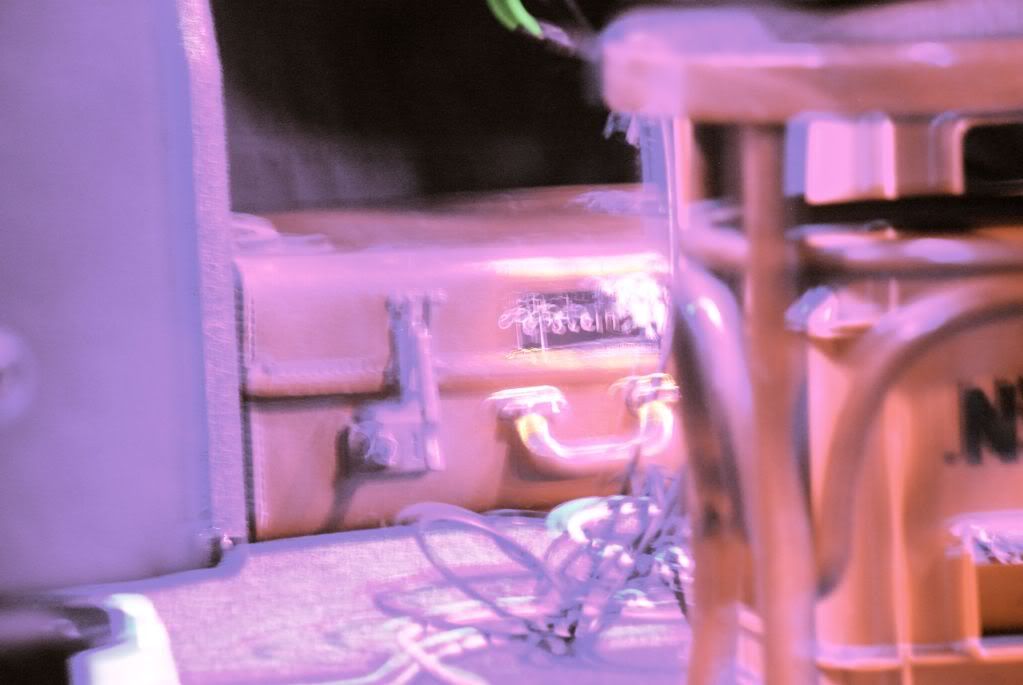 Where is your musical spiritual home?
Olly: I would say Oxford. That's where we've done most of our writing. I've certainly got influenced from when I lived in America for a while. Oxford's got a really great music scene. There's loads of venues and there's always something going on. It's a good place to be a musician.
What bands would you recommend?
Olly: We play with a band from Canada called Ox. They're lovely guys. Really good at reverse parking.
Aliens come down from space. They want to learn about music.  What record would you play them first?
Olly: 'Moonlight Sonata' by Beethoven. Or maybe Epstein album number one.
Seb: I think I'd probably go with Beethoven as well, but Beethoven's 9th.  Why are you all laughing at me?
Oli: I'm wavering between the album from Best Coast, and the Independence Day theme.
Jon: I'd be quite interested to hear some of their alien music. I'd much rather do that than play them Earth music.
Seb: We could try and play them the Beatles, but we'd have to try and agree all the legal stuff.
The aliens have brought a time machine that can take you to any place, in any decade. Where do you go?
Olly: Is this interview for a sci–fi magazine? I've always been fascinated by the Conquistadors. So I'd like to bear witness to the discovery of South America.
Seb: I'd like to check up on the Pyramids. I want to know, because there's a lot of weird shit that went down there.
(Everyone laughs)
Seb: Yeah, I think we'll go with that. The Epstein want to know how the Pyramids were made.
What's the next step for The Epstein?
Seb: To find out what happened with these Pyramids!
Olly: We've got another single and EP coming out in a couple of months. We'll be releasing a full album later on this year.
Got anything special planned for the gig tonight?
Olly: Well we've got Ollie on double bass. That's not a normal thing for The Epstein.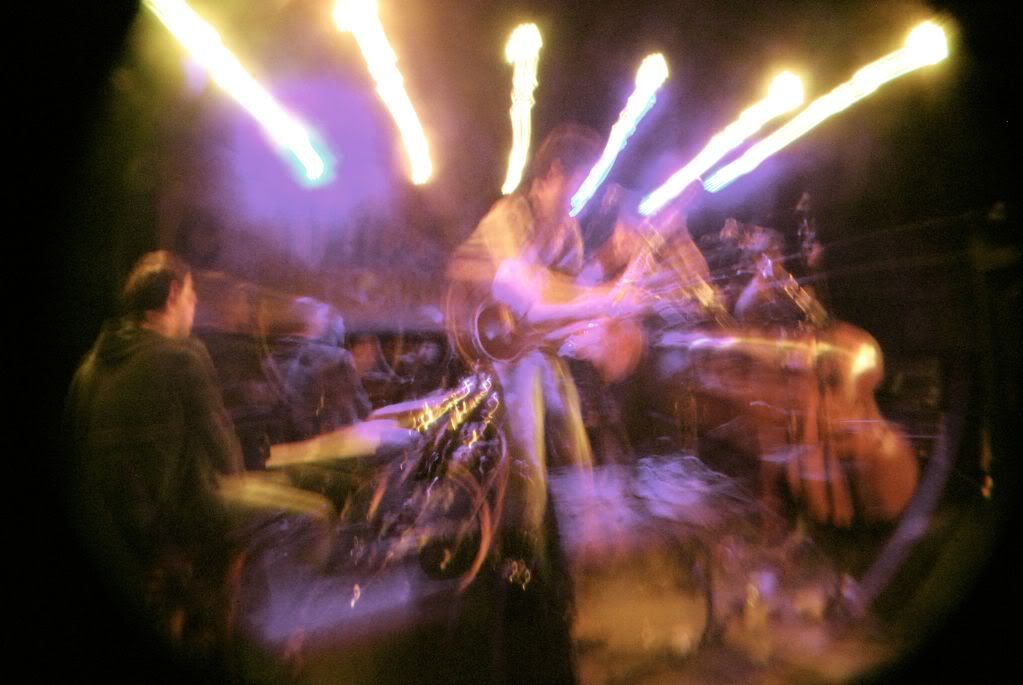 What will The Epstein be doing in 10 years time?
Jon: Supporting David Copperfield at the Pyramids!
Olly: Hopefully making albums, making music. Anything's possible.
I'll let you eat now. Thanks for speaking to me.
I then left before the band could complain that their food had got cold.
The band were playing a Camden Crawl Tips show put on by Amazing Radio, with a view to bagging themselves a place in the final Camden Crawl line-up over the first May Bank Holiday weekend.
The Epstein recently released an EP entitled 'I Held You Once'. Their second album is due to be released later this year.
Words by Ed Hewison
Photos by Natalie Hewison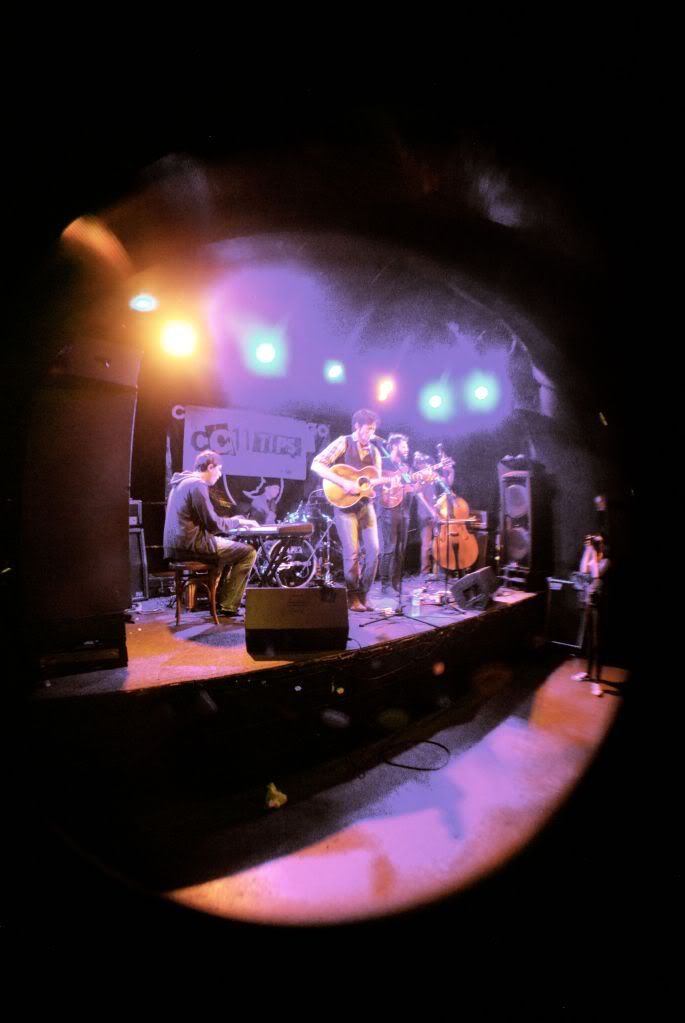 GENERAL.
ART.
ART.