Cougar Town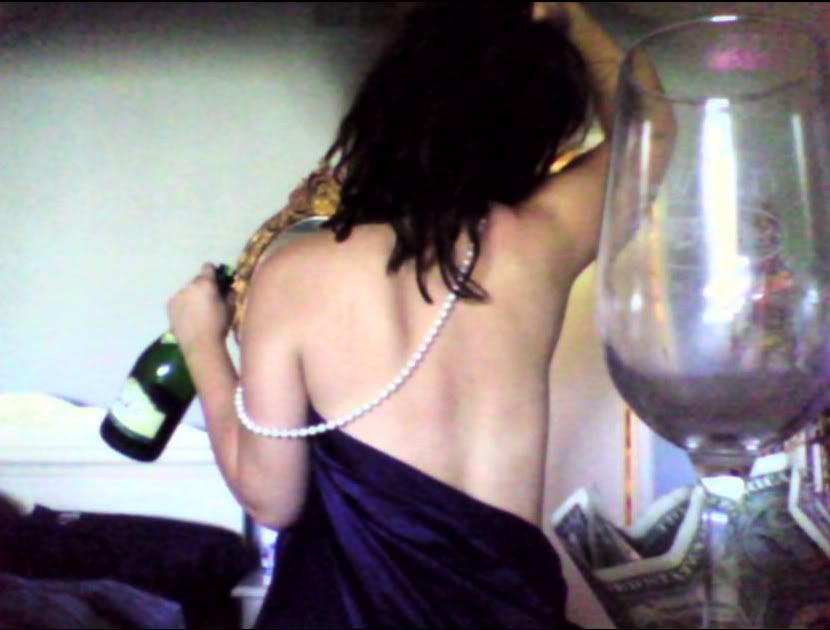 I have never thought of myself as a cougar. In fact, rather than a cradle-robber, I call myself grave-robber. I like my men inches from death (give or take 20-30 years). Some call it "Daddy-Syndrome". I call it "I-need-to-fuck-someone-as-old-or-older-than-my-daddy-because-everyone-younger-than-that-is-retarded Syndrome".
I may or may not have had multiple random (technically) illegal encounters throughout my adult life, but I can't be entirely sure because I usually don't even know their names. Hot men in gay clubs always seem to leave out those unimportant details.
Tuckered out from another long week of college, a good friend invited me to tag along for a night of drinks and conversation. Expecting a small gathering at the home of a mutual friend, I agreed. Two and a half Pina Coladas had been already consumed, when my doorbell rang.
"We're going to my friend's barbecue." My friend announced.
"Who's your friend?" I asked.
"He's bisexual. He has a boyfriend. He's from my church. I hooked up with him," She said.
Three out of the four sounded appealing to me, and I chugged the remaining half of the pina colada in my hand, grabbed my house keys, and headed for the car. "Is he hot?" I wondered.
She checked the reflection in her rearview mirror. "You probably won't think so."
I tossed the keys into the open purse at my stiletto clad feet. "That's a no."
"You'll like him."
"You met him at church."
"So?"
I was silent. Not, though, as silent as I would be once approaching the home of her church-mate, and realizing that the youngest barbecue attendee was 40 something, and neither rich nor attractive. I took a seat on the patio, made a sexually tinged joke, and was suddenly the hit of the convalescent barbecue.
Shortly thereafter, a boy with over-done hair, wearing a plaid v-neck and skin-tight jeans walked out of the apartment. He offered me a cigarette and I assumed I had made a new gay best friend for the night (even though I was slightly disappointed that the cigarette he had handed me was a menthol).
A glass of wine and two Jack-and-Cokes later, we shared another smoke. "Hey, if you want to go inside," he said, taking a drag, "we can."
What were we going to do inside? Braid each other's hair? Trade shoes? Watch an AbFab marathon? "I mean, I guess," I shrugged. He grabbed my hand. Peculiar, I thought. We weren't skipping, or singing along to the 'Hello Dolly' soundtrack. This hand-holding was a much different hand-holding than the kind to which I had grown accustomed. I couldn't see much through the thick blackness of the apartment. Then it dawned on me…we were in a bedroom.
"I can't do this," I said, "I'm a lesbian."
"What?"
"No, I'm kidding. But I am a virgin. And I'm not kidding about that."
"I'm not gonna try to take your shit from you," his words were so intelligent sounding, and so incredibly well articulated.
I relaxed. "Oh, oka-" My mouth had suddenly been invaded by his tobacco flavored tongue.
Marissa's bisexual church friend walked into the dark room. I would have been embarrassed if I hadn't actually felt so relieved that someone was interrupting. "You guys need to move it to the couch," He said. We did as we were told, and two minutes into the make-out session, I began to wonder when it would be over, and why exactly people like kissing so much. It's really sort of pointless. Of course, soon afterward, he began feeling me up and down and every which-way a person can be felt.
"You got a fat booty on you, don't you?" He kind of grunted into my ear, as his hands roamed over my "fat booty".
I pulled away. "Can't you pick another adjective? I don't like the word 'fat' being used to describe any part of me."
"It's not a bad thing," He argued.
I rolled my eyes. "I said, 'pick another adjective'." I knew there was a reason I chose asexuality as my orientation.
I was utterly bored, utterly un-amused by his unflattering compliments, and I secretly started hoping someone would walk in again and pull us apart. The reason I didn't do it myself, was because I started to wonder why I have always been so opposed to sex-related activities.
I repeatedly fought off his hands as they attempted to venture further, and was beginning to doubt my ability to ever enjoy sexual activities (involving other human beings) at all. Finally someone came in to announce that his mother was returning to the barbeque.
Hurriedly, I adjusted my shirt and rushed to Marissa's side to whisper in her ear. "…What is going on?"
"His mom is here."
I was confused. "Why is his mom here?"
"He's sixteen."
I wasn't aware I was into younger men. In fact I thought I detested them, because they call a standing virginity "your shit" and say things like 'fat booty'. (Which is obviously supposed to be super erotic and stuff.)
Anyway, I'm on the hunt for a 40 year old again, label me the product of daddy syndrome if you wish.
…Shoot me an email if you're almost dead.
Comments
From the blog
Mixcloud
Network
REVIEWS.
ART.
GENERAL.